Welcome to First Baptist Church of Interlachen!
 Updated 9/10/2023
---
 We are located just north of Advance Auto Parts on County Road 315 in Interlachen, Florida
Our office hours are Monday – Thursday from 9:00 am – Noon
Service times are: 
Sunday School at 9:45am
Sunday Worship: 10:50am & 6:00pm
Wednesday prayer meeting: 7:00pm
Call us at (386) 684-4573 or send email to fbcinterlachen@gmail.com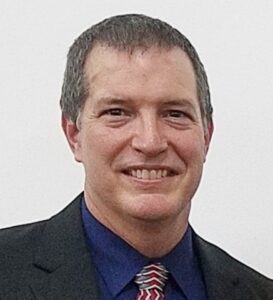 Hello friends!  I'm Pastor Chris White,  and we here at First Baptist Church of Interlachen welcome you to our web site. We have only a brief overview of some of the ministry opportunities which are available to you here and would like to start out by telling you who we are and what we are about. We are a body of believers who enjoy good preaching, good singing, and good fellowship. If you are without a church home, or if you feel that God is moving you to a new place of service  in the kingdom, or if you would like to become a Christian and join a local church, we would love the opportunity to meet you in person and to say "Welcome".
---
---
If you wish to support our local food pantry, please feel free to drop off canned goods all year long.
Items must be in good condition (not out of date or open or damaged)
Preferred items include:
canned goods especially canned vegetables, fruits, meats (tuna, chicken, etc), & soups, OR…if you prefer, you can make a monetary donation marked "Food Pantry" anytime of the year.  Our small food pantry serves many people throughout the year and it gives us many opportunities to share the gospel!  Help us pack the pantry!
---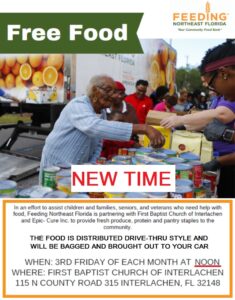 NOTE:  The food giveaway is conducted in a drive-thru style.  Please observe all cones, barricades, etc., and remain in your car while our volunteers get everything ready and bring it out.  (Questions?  Call us at (386) 684-4573 or email to fbcinterlachen@gmail.com)
---
 We are live streaming both of our Sunday and ourWednesday evening worship services.  If you would like to watch, please find us on Facebook.
---
 Please know that our NUMBER ONE concern at First Baptist Church of Interlachen is that you know Jesus and have trusted Him (and Him alone) to be your personal savior.  If you cannot look back through your life and find that time when you confessed your sins, asked Him for forgiveness, and made Him your Lord and Savior, then please know we are praying for you. If you'd like to know more right now…click HERE.
---
This is what the sign over the sanctuary door says. How true it is. Whether you have been a Christian for 100 years, or 3 minutes, we are all a witness for our Lord Jesus Christ. Some of His final words before He ascended into Heaven were "Go" and "Tell". That's what we try to do here at FBC Interlachen. Won't you "Go" with us?
---
We invite and encourage you to come and grow and get involved inwhat God is doing in the life of First Baptist Church.Spirit-filled preaching, plenty of service opportunities, andwonderful Bible studies will help you grow in your walk with the Lord.Join us this Sunday and see what God is doing.  See our online church calendar for service times and events.
---
 Want to check out what's going on in other ministry areas this year? Click here!
Plus…here are some other interesting Outside Links
St. Johns River Baptist Association:  www.sjrba.org
Our Southern baptist publishers:  www.lifeway.com
Our Florida Baptist Convention:  www.flbaptist.org
Our national Southern Baptist Convention:  www.sbc.net
The North American Mission Board:  www.namb.net
The International Mission Board:  www.imb.org
---